The Pickiest Online Daters
Examining Selectivity in the World of Online Dating
In the ever-evolving world of digital romance, online dating has become a popular avenue for seeking love and companionship. But just how selective are individuals when choosing potential partners in the virtual realm?
For this study, we surveyed dating app users to uncover how picky they are when searching for a potential partner online and what factors dictate their selections. Read on to see what we found.
The Selective Swiper: Insights into Dating App Behavior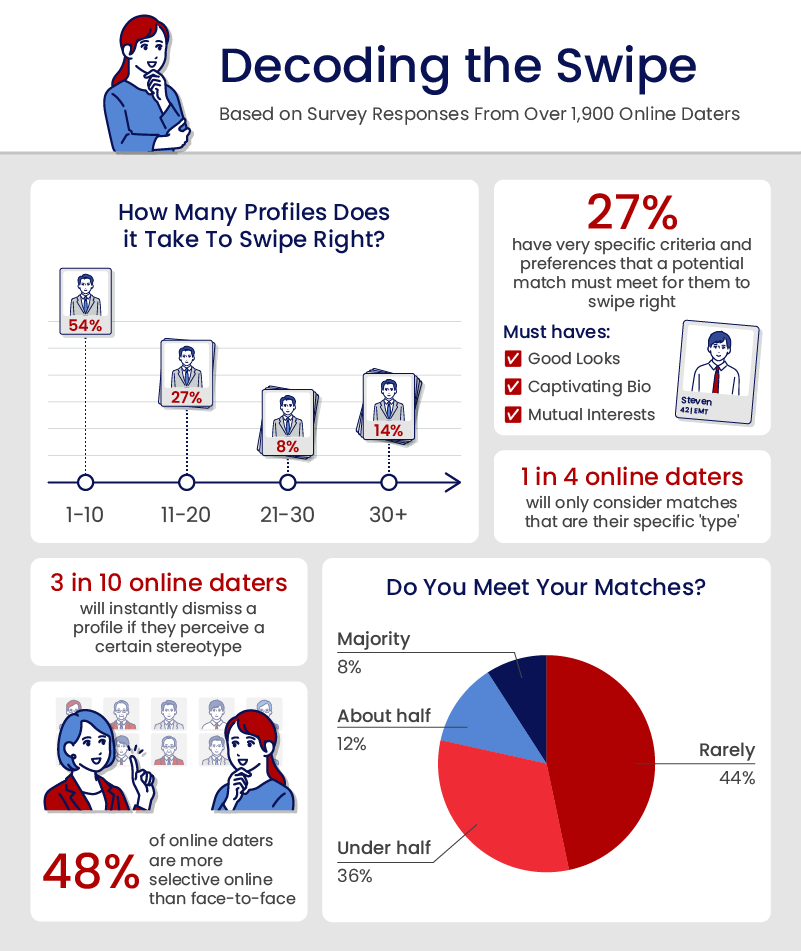 Online dating can sometimes feel like window-shopping for love, with endless profiles to scroll through and numerous factors to consider before deciding to take things to the next level. But just how picky are we being on dating apps? We recently dove into the data, and the results are eye-opening.
User Selectivity and Preferences
How Picky Are We? Most users (9 out of 10) self-identify as being picky on dating apps, and a significant 20% set exceptionally high standards for potential matches.
The Checklist Phenomenon: Over a quarter of users maintain a strict list of must-haves that a profile must meet for them to consider swiping right.
Swipe Right Criteria: For 28% of users, a trifecta of factors—good looks, an engaging bio, and shared interests—determine if they swipe right.
Deal-Breakers: We found that 9 out of 10 users have immediate deal-breakers. For 23%, the list is quite extensive. The top reasons to swipe left include perceived unattractiveness (32%), mismatched bios (21%), and lack of shared interests (20%).
Type Casting: One in four users stick rigidly to swiping right only on profiles that fit their specific "type."
Stereotyping: A concerning 29% of users admit to dismissing potential matches based on stereotypes.
Digital vs. Reality: Almost half of the users surveyed say they are more selective online than when meeting people in person.
From Match to Meet: Navigating Choice and Fatigue
After overcoming their initial pickiness and swiping right, many online daters brace themselves for the unpredictable rollercoaster of matching and ghosting that often follows.
Interestingly, nearly half of dating app users find themselves landing a match only sporadically, and a small but noteworthy 9% hardly ever experience the joy of mutual attraction.
Yet, matching isn't always the precursor to meaningful conversation. Roughly one-third match more often than they talk, and 10% barely communicate with their matches at all.
But let's say you do match and start a conversation; how often does this translate into a real-life meeting? Rarely, it turns out. Almost half the surveyed users seldom take their digital dalliances into the real world, and 36% have met less than half of their matches face-to-face.
This reluctance to meet might be related to another surprising statistic: more than half of users believe in the notion of an 'ideal' or 'perfect' match.
A staggering 14% are even holding out exclusively for this fairy-tale outcome, possibly setting themselves up for disappointment and contributing to a trend of dating app fatigue.
The journey doesn't end here. The data shows that nearly 60% of users invest a significant amount of time in vetting their matches before even considering an in-person meeting. This level of scrutiny, while understandable, also contributes to the growing sense of exhaustion among users.
The rigorous selectivity, the conversations that lead nowhere, and the idealization of potential partners create a taxing cycle. It seems many are navigating endless digital corridors of choice without forging meaningful connections, making the world of online dating both expansive and strangely limiting.
Swiping Wars: Men vs. Women – Who's Really the Pickiest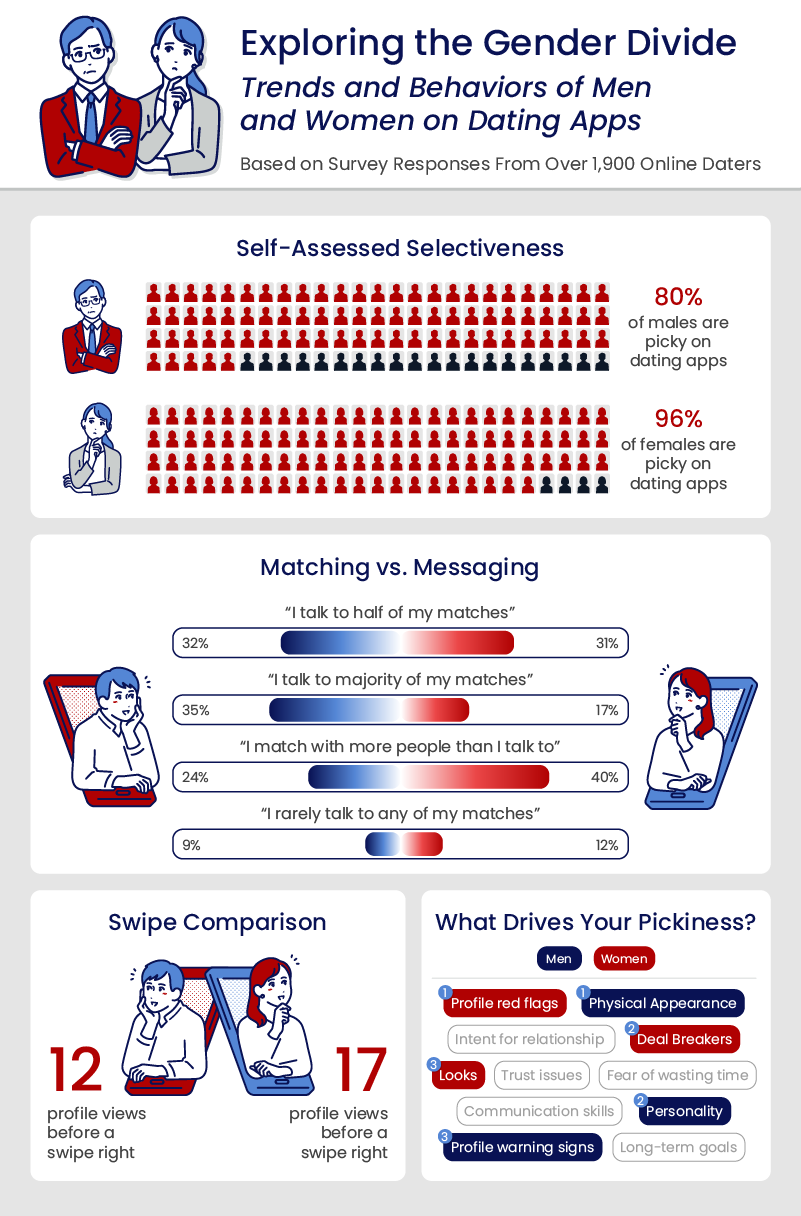 In the fickle world of online dating, men and women seem to be playing in two very different fields. Struggling more than their female counterparts, 34% of men find it difficult to land a match compared to 23% of women. It's not surprising, then, that men are quicker to swipe right, taking just 12 profile views on average, while women deliberate over 17.
Yet, the disparity doesn't end there. Women are not only more selective but also more specific about what they're looking for. A significant 33% of women have a set list of criteria that a potential match must meet, as opposed to 23% of men.
The criteria differ too; while 35% of women are looking for the triple threat—good looks, an eye-catching profile, and shared interests—25% of men primarily focus on looks and general compatibility.
If you're a woman, your chances of getting instantly dismissed for lack of attractiveness are slightly higher —38% of men say they do this, compared to 27% of women.
Women also typically have more deal-breakers than men. They're twice as likely to have an arsenal of immediate turn-offs (30% vs. 15%), and they're also more likely to reject profiles based on stereotypes—84% of women do this compared to 64% of men.
Similarly, 26% of women set strict standards for their potential matches, more than double the 12% of men who do the same. A staggering 52% of women admit to being pickier online than in person, which could partially explain why so few women (38%) compared to men (52%) rarely transition from a digital match to an in-person meeting.
The dating app journey isn't just about swiping and matching; it's also about starting a conversation; interestingly, 40% of women admit to matching more frequently than they engage in conversations, while 36% of men try to talk to most of their matches.
When women do match, one in ten will quickly move on if they don't feel an immediate connection, underscoring the importance of that ever-elusive 'spark.'
The Pickiest Daters in the U.S.
The dating game varies significantly from state to state, and if you're looking for love in America, geography might have more to do with your experience than you think. Here are the states with some of the country's pickiest online daters:
Picky Coast to Coast: In California, Texas, and Pennsylvania, over half of online daters exercise greater selectivity in the digital realm than in real life.
Romantic Idealists: Florida and Georgia house one in five residents holding out for a perfect match, while Georgians and New Jerseyans push the envelope, with more than a quarter having sky-high standards.
The Conversation Gap: Illinois showcases a 38% rate of matching without engaging, contrasting New Jersey, where one in six matches but rarely initiates dialogue.
The Vanity Factor: Californians weigh physical looks heavily, and in the Empire State, nearly 40% turn a cold shoulder to profiles deemed unattractive.
Quick to Judge: In Ohio and New York, instant deal-breakers are common, but Ohio takes it up a notch, with 40% having precise criteria for swiping.
The Patient Yet Picky: Pennsylvanians contemplate over 30 profiles before a right swipe but don't compromise on selectivity. Similarly, Washingtonians are a tough crowd, with one in ten seldom swiping right.
Social Biases: 37% of Virginians reveal that they are influenced by stereotypes in their swiping decisions.
From extensive vetting processes to impossibly high standards, the digital quest for love is a landscape rich with possibilities but also fraught with pitfalls.
Many of us navigate this world with high standards and checklists, perhaps sometimes to our detriment. While selectivity may lead us closer to a "perfect match," it's clear that too much of it can also deter meaningful connections and contribute to dating fatigue.
If you're struggling to make meaningful connections, The Matchmaking Company has the act of finding a partner down to a science. With a tailored approach that considers all the factors above, we aim to transform your online interactions into real-life romance.
Finding love is a journey, but it's one you don't have to take alone. Let The Matchmaking Company guide you toward the meaningful relationship you've been searching for.
To understand the behavior and preferences of online daters, focusing on their selectivity when choosing potential matches, we conducted a survey from October 2nd to 14th, 2023.
The study involved 1,942 dating app users and sought to explore various aspects of their online dating experience—ranging from how selective they are to the time spent reviewing profiles and the factors affecting their swiping decisions.
We further segmented by gender and state to identify notable deviations or patterns.