Our clients believe in the value of true, lasting love. The Matchmaking Company provides just that. Here are a few of the countless couples who have found love through our matchmaking services.
An Easy Companionship
Carole and Bill
Bill had always loved to restore classic cars. After his wife of over fifty years lost her battle with illness, he felt lost and unsure how to move forward. His days were busy in the garage, but after spending his nights alone for so many years, he was ready for the next chapter of his life to begin. His marriage had been wonderful, but he missed the companionship.
Love After Loss
David and Theresa
After more than 40 years of happy memories, Theresa sadly lost her beloved husband. Eventually she found she was ready for an opportunity to find new love, so she came to our matchmakers. She also recognized her need for support while dating for the first time since her marriage, so our relationship coaches stepped in to offer a guiding hand.
It Just Made Sense
André and Sophie
Like so many of our clients, Andre and Sophie decided to work with a matchmaker because they were serious about finding a long-term relationship. They each saw a family in their near future, and they wanted to meet others who felt the same. Luckily for them, their matchmaker noticed how their journeys seemed to parallel each other, and she asked them to take a chance.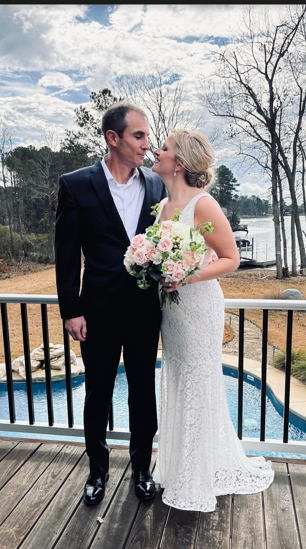 Finally Found Her
Leigh and Rob
As a successful businessman and dedicated, single father, Rob found it difficult to dedicate time to finding the one. Despite swiping through apps and arranging dates on his own, he could never feel that spark he was hoping for. Convinced there must be a better way, he decided to reach out The Matchmaking Company for help.
Smitten Since Day One
Midge and Rich
After the death of a spouse, some may feel that they'll never experience love again. Yet, the story of Midge and Rich shows that love can still be found after loss.
After 40 years of marriage, Midge's husband lost his battle with a terminal illness. While she looked back on those years with fondness, for the next stage of her life, Midge wanted something new. The last several years of their marriage were dedicated to the care of her late husband. As she moved on from her grief, Midge realized that she deserved to be taken care of, too.
Sometimes you have to go outside your comfort zone and try something new in order to have success. These are real client stories where our matchmakers had to work with their clients in order for them to find the relationship they really wanted.