Toxic or Not? Dating App Users Tell All
In the era of swipes and likes, dating apps like Tinder, Bumble, and Grindr have completely changed how we find love and build connections. But it's not always about sweet conversations and love stories — sometimes, the journey can be pretty sour. That's why we set out to survey dating app users, revealing the good, the bad, and the unexpected of the online dating world.
We're diving deep to understand why people swipe right, how often they really chat, and what they are actually looking for. Is it love, is it a casual fling, or is it something else? We're breaking down the real deal behind the glossy profile pictures and catchy bios, helping you understand which apps are making true connections and which ones are just wasting your time.
Whether you're an avid dating app user or just curious about what's happening in the world of online dating, we're here to give you the inside track on what's really going on behind the scenes.
1 in 3 dating App Users Have Left a Platform Because of Toxic Behavior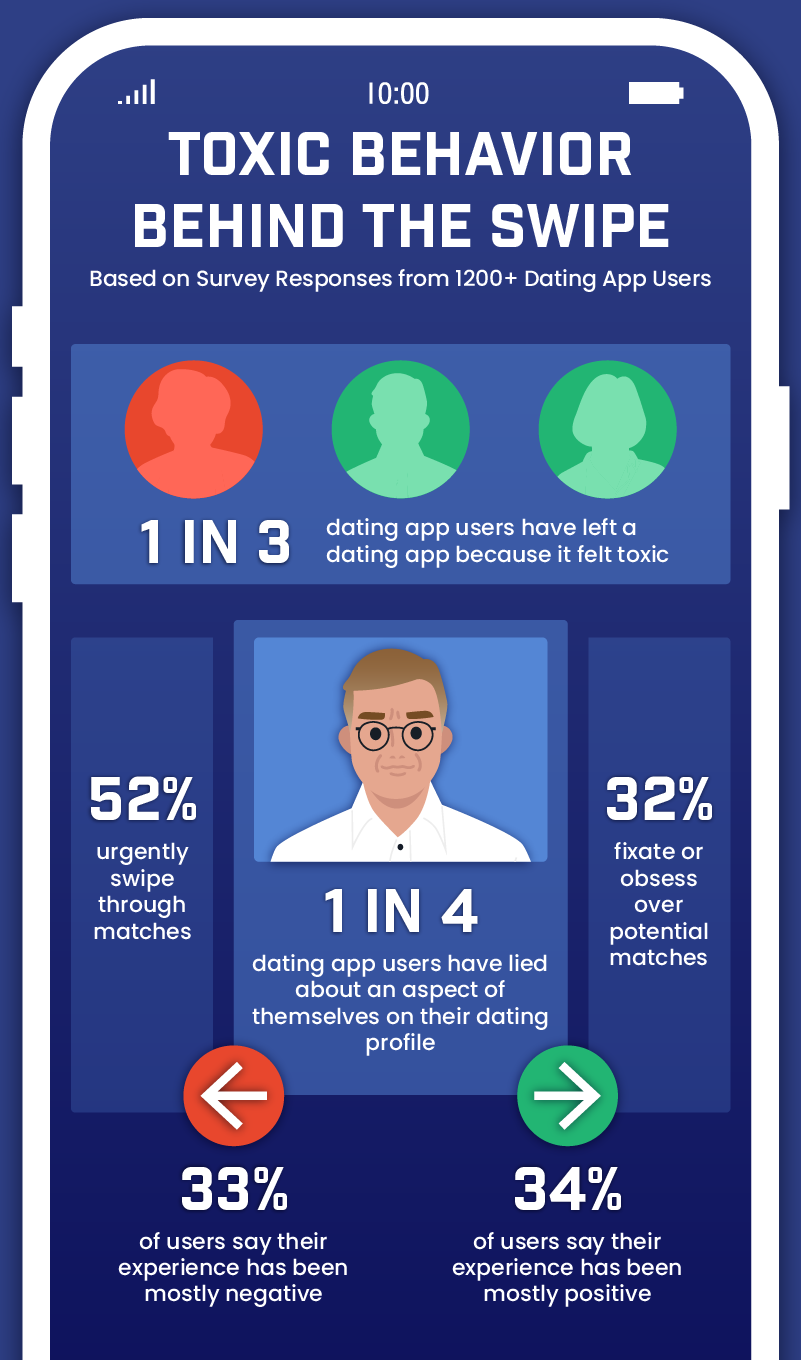 Toxicity Across Apps
Navigating through the world of dating apps can sometimes feel like walking through a minefield. According to our survey, 41% of users have occasionally bumped into toxic behavior, and for 15%, it's a regular ordeal. Women, in particular, seem to be at the receiving end of frequent toxicity, with 20% reporting regular negative experiences, compared to 9% of men. It's high time we address the elephant in the room: the online dating world isn't always roses and chocolates; sometimes, it's more thorns and bitter pills.
The most rampant toxic behaviors reported include ghosting or unexpected disappearances (19%), catfishing or impersonation (14%), and receiving unsolicited explicit content (14%). Nearly 1 in 6 users have been on the receiving end of unwanted explicit content. Men predominantly face ghosting and catfishing (38%), while women are more likely to experience ghosting and receive unsolicited explicit content (36%).
But what's fueling this toxic environment? Users believe features like anonymity (21%), limited profile information (21%), and gamified elements, such as likes or in-app purchases (20%), are the main culprits.
It seems honesty isn't everyone's best policy, with 1 in 4 respondents admitting to having deceptively lied on their dating profiles. Particularly, males and older generations are more prone to deceit, with one-third admitting to falsehoods, as opposed to 20% of females and 21% of young adults.
The Impact on Individual Wellbeing
It's clear that these platforms can have a profound impact on our well-being and self-esteem. Americans are divided on this, with 36% feeling their self-esteem has remained stable, 35% feeling a negative impact, and 29% experiencing a boost in self-esteem thanks to dating apps. However, men are slightly more likely to experience decreased self-esteem (31%) than women (24%).
The experiences on these apps oscillate between positive and negative for many. About 34% of users have had more positive experiences, while an equal proportion (33%) report more negative encounters. The gender divide is evident here too, with 36% of men finding their experiences more positive compared to 31% of women.
Uncovering Swiping Habits
We've all been there: mindlessly scrolling through our phones, completely losing track of time. In fact, around 52% of adult dating app users often find themselves compulsively swiping through potential partners. The other 48% manage to keep their swiping in check, rarely or never finding themselves in a swiping frenzy. It's particularly likely when boredom strikes, with 59% of users admitting to using dating apps to pass time.
It seems like swiping has become a social activity too, with around one-third of users scrolling through dating apps with friends. This behavior is even more prevalent among Gen Z, with 58% doing so. It's fascinating to see how dating apps are not just about individual experiences but are also becoming a part of social interactions and group activities.
But it's not all casual and social; there's a serious side to swiping too. A considerable 32% of users say they obsess over potential matches. Men are leading in this behavior, with 37% admitting to sometimes or often fixating on potential matches, compared to 28% of women. It's clear that while swiping can be fun and social, it can also become intense and consuming.
Americans Rank the Most Toxic Dating Apps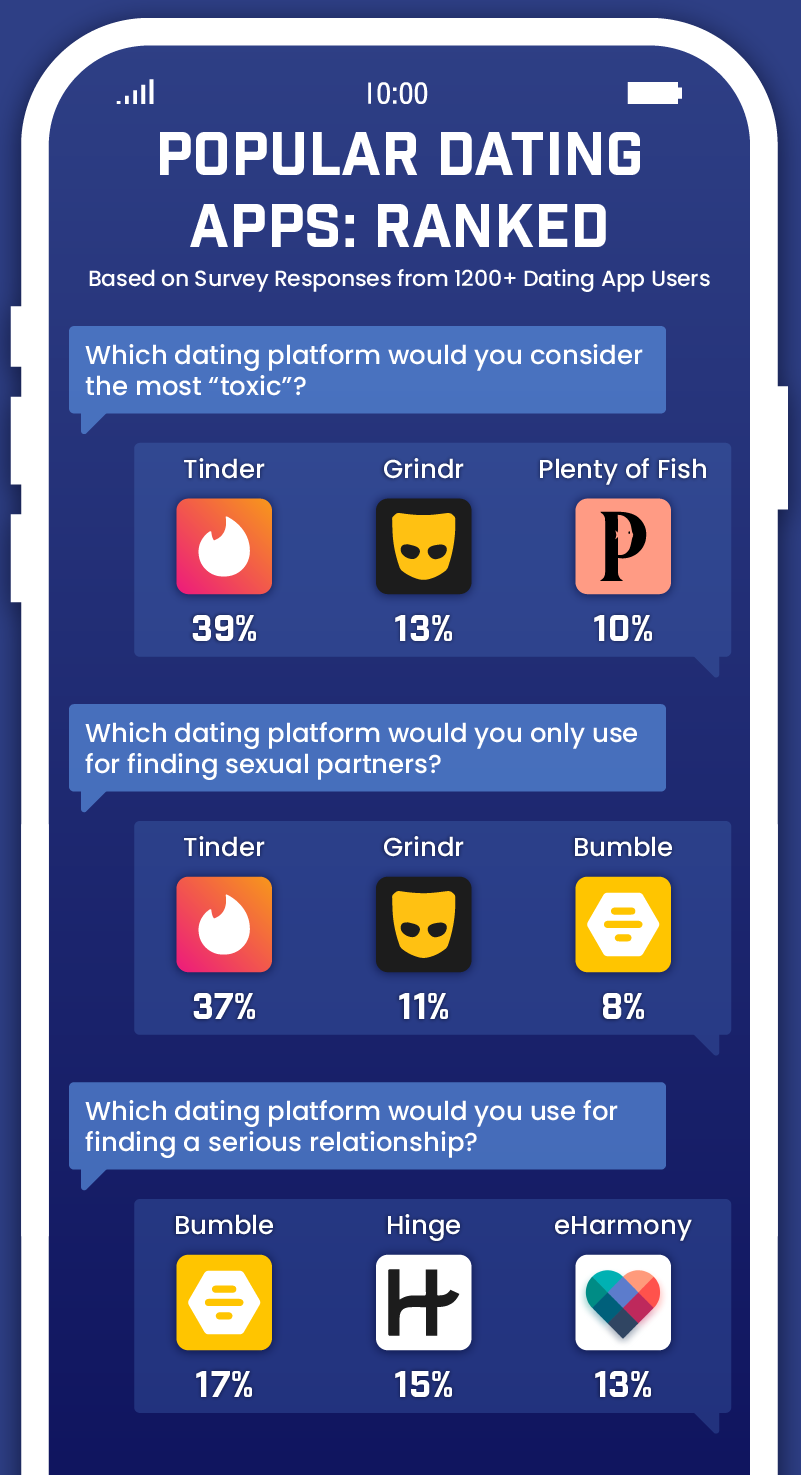 Among dating app users, engagement is high. The majority of respondents, 28%, use their app of choice several times a week, with another 15% checking in multiple times a day.

The motivations behind using dating apps are varied, with 40% of users primarily seeking long-term relationships, 17% opting for casual dating, and 13% on the lookout for casual hookups, revealing a diverse range of relationship goals and interactions on these platforms.

Digging deeper, there's a distinct gender difference, with men being significantly more likely to use dating apps for casual hookups, standing at 21% compared to just 6% of women.

When it comes to specific apps, Tinder is the crowd favorite, snagging 26% of users, with Bumble buzzing close behind at 20%, and Hinge hanging in there at 14%. Each one has its own vibe, catering to the diverse crowd of love seekers, casual daters, and everything in between. Interestingly, Grindr is the go-to for those looking for casual hookups, with 33% of its users swiping for non-committal fun.

Tinder, despite its popularity, is also the most kicked to the curb due to its toxic environment, with 18% hitting uninstall. When people think "toxic apps", Tinder tops the list at 39%, followed by Grindr at 13% and Plenty of Fish at 10%.

In the swiping world, Bumble and Hinge are where the social butterflies flutter, with most people occasionally swiping with friends. When it comes to what people are looking for, Tinder, Grindr, and Bumble are the top picks for those on the hunt for something casual, while those dreaming of something a bit more serious are opting for Bumble, Hinge, and eHarmony.
Love in the Age of Algorithms

AI is sneaking into every corner of our lives, and dating apps are no exception. About half of dating app aficionados (51%) are cool with AI playing matchmaker, suggesting potential matches based on user preferences.
At the same time, over half of users (53%) are a bit wary, concerned that AI could take away from the real, genuine connections that dating apps are all about. They worry that the authenticity of interactions might take a hit with algorithms running the show.
Despite concerns, this tech could offer valuable improvements for the safety of dating app users. Interestingly, 4 in 10 users are more inclined to engage with an app that leverages AI to ensure the realness of profiles, such as checking for doctored photos and sniffing out inconsistencies in profile info.
Security is also in the mix, with 34% of users feeling more secure with AI on the lookout, verifying the truthfulness of profiles. However, not everyone is on board, with 37% feeling indifferent and 21% not feeling any more secure with AI assistance.
Navigating the world of dating apps can be stressful. But amidst the swipes, likes, and occasional chaos, there are real opportunities for meaningful connections, companionships, and maybe even finding 'the one'. It's all about balancing the fun with caution, leveraging technology wisely, and staying true to yourself in the pursuit of happiness in the online dating landscape.
If the rollercoaster of swipes and likes isn't quite your scene and you yearn for a more personalized and genuine approach to finding your match, The Matchmaking Company offers a refreshing alternative. Merging the essence of traditional dating with the expertise of professional matchmakers, we bring a tailored and human touch to help you find 'the one'. Get in touch today to find your personalized path to love.
In order to gain insights into the behaviors and experiences associated with online dating platforms, we conducted a survey involving 1,292 Americans who are current or former users of these platforms. The survey was administered between August and September 2023. Participants were asked about their choice of platforms, their own behaviors, and the behaviors they observed from others while using the apps. Our research focused on uncovering the unseen behaviors occurring within dating platforms and exploring their impacts on individual well-being.