The States with the Most Distracted Daters
Whether it's the first or the four-hundredth, a date is a time to share and strengthen your connection with that special someone. However, constantly checking the phone or being glued to the TV in the background can ruin the ambiance altogether.
We surveyed Americans to uncover which states have the most and least distracted daters. We asked them questions about their habits and the things that bother them the most. Read on to see what we found.
U.S. States With the Most (and Least) Distracted Daters
Texas is known for having more of everything. Unfortunately, that also includes distracted daters. Texans take the crown for being the most inattentive daters out there. On average, Texans can't help but reach for their phones four times during a single date. Talk about divided attention!
If you're looking for a date that's 100% into you, Maryland is the place to be. Marylanders are the champs of focused dating. A remarkable 39% of them use the 'do not disturb' mode on their phones while on a date, more than any other state. It turns out that people in the Golden State are more likely than anyone else to pick up a phone call during a date. Yep, you heard it right. 47% of Californians have interrupted their romantic outings to answer a phone call. Can't they just let it go to voicemail?
However, in the land of picturesque mountains and fresh air, folks in Colorado take a different approach. About 39% of Coloradans don't even bother looking at their phones during dates. They want to be fully present with their partners and make a real connection.
The dating scene in different states varies when it comes to phone distractions. Texans are all about multitasking on dates, Marylanders maintain razor-sharp focus, and California can't resist answering calls. It's fascinating to see how people's behaviors differ across the United States when it comes to dating.
Distracted Dating Statistics Around the U.S.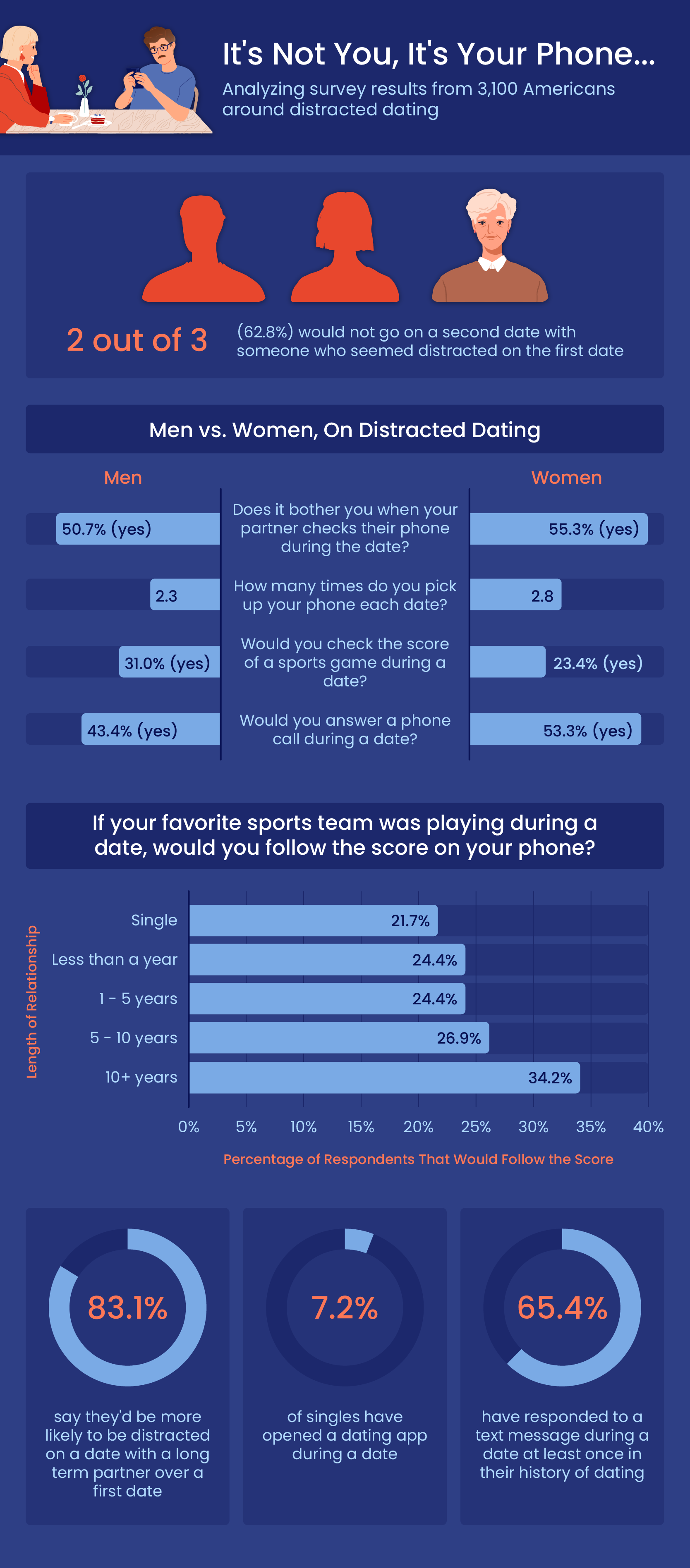 Picture this: you're on a first date, hoping to make a connection. Well, if your date seems distracted, you might want to think twice about a second outing.
A staggering 62.8% of individuals surveyed said they would not go on a second date with someone who appeared distracted during the initial encounter.
Interestingly, women are 24.1% less likely than men to give distracted individuals a second chance. Gentlemen, it seems like undivided attention is key!
Checking your phone or texting on a date can be a major turn-off for many. Approximately 52.4% of respondents admitted it bothers them when their partner glances at their phone during a date. Women take the lead again, with 9% more women than men expressing annoyance over this behavior.
As relationships progress, the tolerance for phone distractions seems to decrease. Among couples dating for over a year, 45.7% are bothered by their partner's phone usage during a date.
In contrast, 61% of those in relationships of less than a year find it bothersome.
Sports enthusiasts face a unique challenge during dates—keeping up with the latest game scores. Approximately 26.4% of respondents admit they would check the score if their favorite sports team is playing during a date. Notably, men are 32.8% more likely than women to succumb to this temptation.
The duration of the relationship also plays a key role in this statistic. The longer the relationship, the higher the likelihood of following sports scores during a date, with 34.2% of couples in relationships exceeding ten years indulging in this behavior.
When it comes to the influence of relationship status on phone distractions, we see some interesting patterns emerge. We find that single individuals are 43.2% less likely than married couples to follow their favorite sports team during a date.
Surprisingly, 83.1% of respondents admitted they would be more likely to experience distractions on a date with a long-term partner compared to a first date. While familiarity may breed comfort, it also allows for more opportunities for distractions to creep in.
In the digital age, the allure of dating apps can prove challenging to resist. Roughly 1 out of every 10 singles confess to opening a dating app during a date in the past. It would appear that maintaining focus and connection can sometimes be a struggle in today's technologically-driven dating landscape.
Full Dataset
Click the interactive table below to see where your state ranks when it comes to distracted dating.
Closing Thoughts
Navigating the world of modern dating presents its fair share of challenges, with phone distractions being one of them. There's already enough competition in the dating pool; you shouldn't have to compete with a phone screen too.
So, whether you're embarking on a first date or are in a long-term relationship, remember the importance of putting distractions aside. Take a moment to silence your phone, engage in meaningful conversation, and savor the magic of the present moment.
At The Matchmaking Company, we understand the importance of making a genuine and lasting impression. Our goal is to bring together individuals seeking meaningful connections, and that includes promoting focused and distraction-free dating experiences.
After all, no one wants to waste time on a distracted date when you're trying to find the one!
Let The Matchmaking Company be your ally in the pursuit of love and meaningful connections. Together, we can help you navigate the modern dating landscape with confidence and intention and ensure you make the most of every opportunity to connect with your soulmate.
Methodology
To analyze distracted dating habits, we conducted a nationwide survey of 3,100 Americans in May of 2023. We calculated a 'distraction index' based on survey responses to identify the states with the most distracted daters. The score is based on a scale from 0 to 100, with 100 indicating the most attentive daters, and 0 indicating the most distracted.
The score is based on how often they check their phone, how often they pick up their phone, whether or not they use do not disturb, and if they partake in various activities (i.e. texting, answering a phone call, taking photos, looking at sports scores, etc.) during dates.
The following states were omitted due to insufficient sample sizes: Alaska, Hawaii, Montana, North Dakota, South Dakota, Vermont, and Wyoming.