Matchmaking Success Story
The Love Story of Rob and Leigh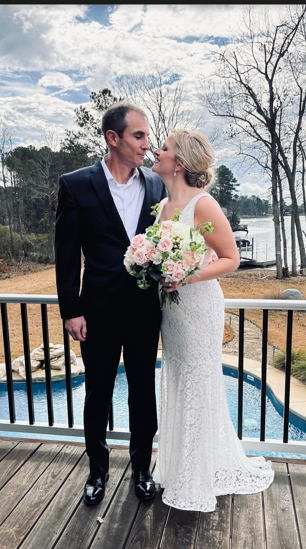 As a successful businessman and dedicated, single father, Rob found it difficult to dedicate time to finding the one. Despite swiping through apps and arranging dates on his own, he could never feel that spark he was hoping for. Convinced there must be a better way, he decided to reach out The Matchmaking Company for help.
A total catch, it didn't take long for Rob's Matchmaker to set him up with several high-quality women to choose from. While they were all nice enough, Rob said there was still something missing. Two years since his divorce, he was cautious of who he would introduce into his young daughter's life. Noticing his disappointment, Rob's Matchmaker encouraged him to go on one more date before giving up his search. That's when he met Leigh.
Ready to find a man worthy of her love, Leigh had just joined The Matchmaking Company and was awaiting her first match. A loving mother of two, Leigh wanted a loyal man with a good sense of humor and strong family values.
Knowing they'd make the perfect pair, her matchmaker set her up with Rob. Upon meeting, it did not take long for Leigh to realize that he was exactly what she wanted in her life.
The feelings were mutual. When Rob met Leigh, he suddenly forgot about all the disappointing dates that came before her. Beautiful, intelligent, and kind, Leigh was the woman of Rob's dreams. Finally, he had reached his journey towards love.
The couple immediately started dating and eventually married in a romantic ceremony with their family and closest friends.